'Venus Smiles' is about acoustically situated sound sculpturing for shared performance by multiple players. The resonating copper tube system is a musical instrument to be played by using your hands, a bow, mallets or your voice. You can experience actively, but intuitively, how sound can make us feel and that regardless of their level of musical education they create immersive music that can initiate a somewhat non-judgemental but healing state of mind full of expression and flow.
The first sustainability focused 'Venus Smiles' sculpture was opened on the 25.09.2021 with a musical premiere by three musicians. D
esigned to participate in the processes of nature, its sound will transition from the newly built, sleek and harsh metal sound to a more warmly coated sound of rust and patina. The big sculpture  can be visited and played at

Akademie Schwerte

to this day. Bows and mallets to play the outdoor Venus Smiles instrument are provided at the reception.
Produced by James Traylen
The performances on the record 'Venus Smiles' were made by Tabita Cargnel, with contributions from Arianna Barra and Heiko Strömann, using the Venus Smiles sonic sculpture that resides in a public field in Germany, in the summer of 2022. Each performance explores a different haptic approach to the sculpture, using bows, mallets, and fingers, as well as varying the interaction between performer and instrument, through duets and solos, in order to elicit all the many sonic responses that the instrument is capable of.
Producer James Traylen assembled and edited the performances into two continuous pieces, using no synthesis, overdubs, or artificial spatial effects, in an effort to remain true to the acoustic design and resultant sonic phenomena naturally inherent within the sculpture. The record was made to align with this October 2022 exhibition of a new Venus Smiles, at the Project DIVFUSE Gallery in Hackney, London.
Venus Smiles is an acoustically situated sound sculpture for shared performance by multiple players. Resonating copper tubes, suspended in a tensegrity type structure can be played as a musical instrument by using your hands, a bow or your voice.
The instrument is tuned to the resonant frequencies of the room, sharing its tone via intangible vibrations, specifically designed to amplify acoustic properties of the room in reciprocal acoustic relationship. Musical chords and timbres can be built into the structure and the integral aspect of the tensegrity system enhances the communal music-making: Pressure applied through one persons playing on any side of the system will modulate the tension of the whole. If one person is bowing a string, for instance, another person can change its pitch by pushing a tube or bowing another string.
Everyone can play Venus Smiles, even people without a musical background can create immersive sounds to communicate in a language beyond words. The musical architecture is tangible and creates novel interactions with sound and space.
Venus Smiles at the Bartlett Graduate Fifteen Show, London, UK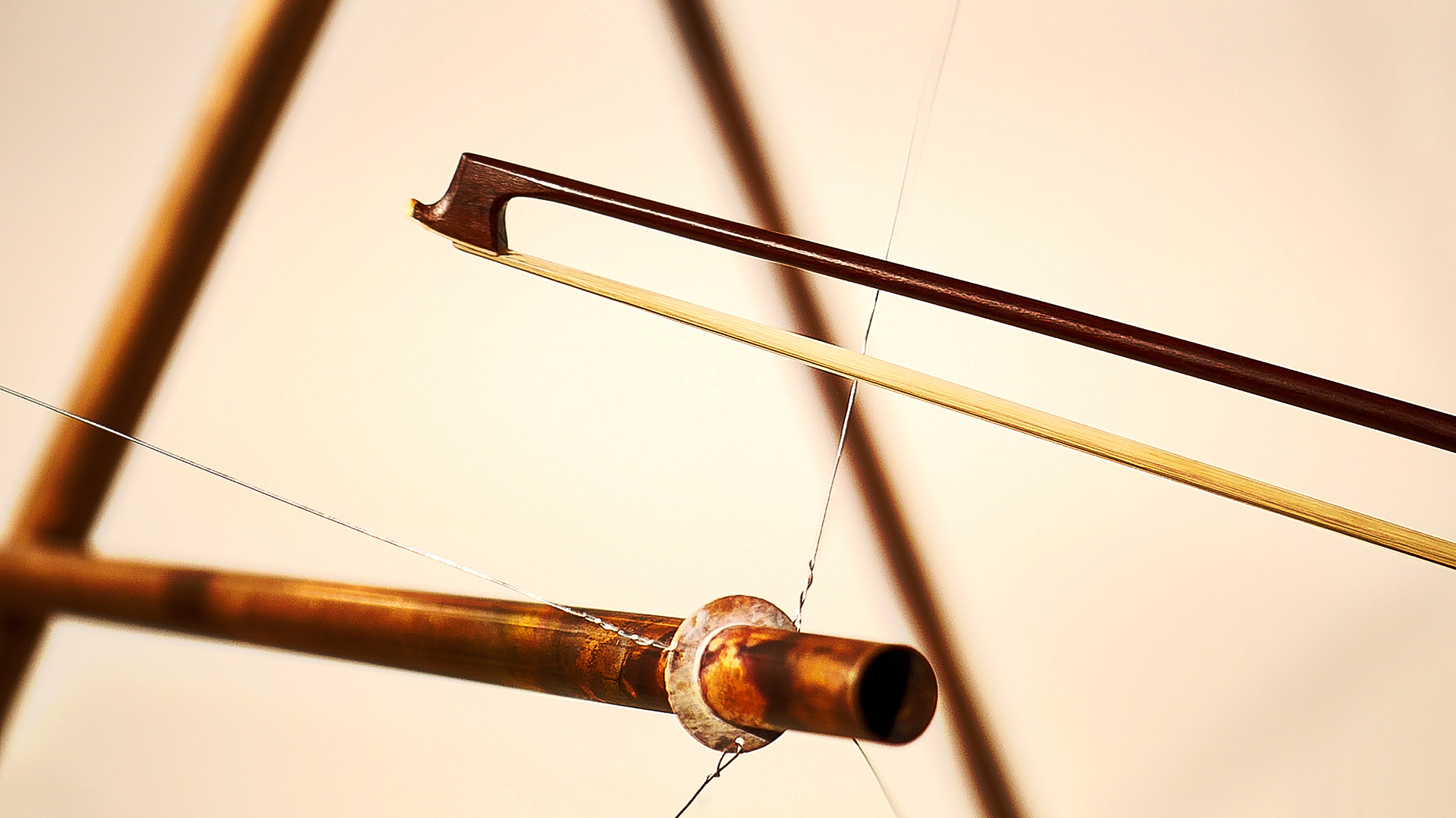 Venus Smiles in Tate Britain
The sculpture is a large scale instrument that you can inhabit. The space that moves when you move and that makes sounds to your movements. The instrument enables you to experience and create music through your own movements and learn the principles of sound and improvisation intuitively.  The instrument enables you to create different sonic textural atmospheres to communicate a certain mood, expressed through your movement.